CONTRACT DISPUTES ATTORNEY IN DOWNEY, CALIFORNIA
California Lawyer Handling Contract Disputes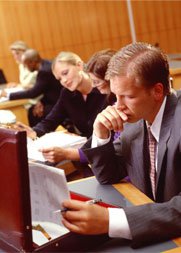 Contract disputes are frequently complex and confusing. Many contracts are written with technical legal language that may be difficult to understand. At the offices of Orloff and Associates in Downey, California, our firm handles contract disputes between individuals, individuals and businesses, and businesses. We work to provide clients with tailored representation that is designed to protect their rights in light of the contract issues they may be facing. Some of the contract matters we handle include:
Collections and billing

Breach of contract

Breach of fiduciary duty

Buy/sell agreements

Real estate contracts

Property division

Company and business dissolution

Intellectual property

Wholesale/retail agreements

Bill of goods

Separation agreements

Non-compete agreements

Non-disclosure agreements

Shareholder agreement

Employment contracts
Alternative Dispute Resolution
In many cases, a contract dispute must be resolved by methods of alternative dispute resolution (ADR) such as arbitration. Arbitration has some similarities to litigation, but the rules of evidence are different and the panel of arbitrators are not judges. Our firm can explain your options and help you determine how to handle your case in arbitration.
Litigation
In some cases, litigation is the only answer. If the other party is unwilling to comply with the terms of a contract, it is important that the courts become involved to ensure that the legality of the contract is enforced.
Verbal Contracts
A contract does not need to be in writing to be enforceable. It is essential to understand verbal contracts are enforceable contracts. Our firm handles cases in which clients are seeking to have a verbal contract enforced or are attempting to show that there was no verbal agreement.
Contact Us
To learn more about how our firm handles contract disputes and other contract issues, speak with attorney Paul Orloff at our firm today. We have provided assistance and guidance to numerous individuals and businesses, and we receive a large number of our new clients by referrals from satisfied current and former clients. We are committed to resolving your legal matter as quickly and efficiently as possible and to saving you money when possible.