BREACH OF FIDUCIARY DUTY ATTORNEY IN DOWNEY, CALIFORNIA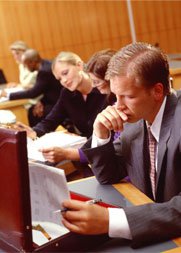 Generally, a fiduciary duty is a legal relationship between two or more parties that involves loyalty, trust and the avoidance of a conflict of interest. More specifically, in a business context, fiduciary duties most often involve the legal responsibility for investing money, acting for a party's benefit, disclosing all material facts and employing reasonable care to avoid misleading clients. Financial planners, corporate board members, mortgage brokers, and business partners can all serve as fiduciaries.
If you believe or suspect you are the victim of a breach of fiduciary duty, contact the lawyers at Orloff & Associates. We have resolved numerous cases involving the breach of fiduciary duty in Downey and across the counties of Los Angeles, Orange, Riverside, and San Bernardino. Our lead attorney, Paul Orloff has worked in business law since 2002, managed his own business for nine years prior to practicing law and holds a business degree from the University of Southern California.
We can resolve breach of fiduciary duty cases involving contract disputes, non-compete agreements, mortgage- and finance-related issues, company officer issues and any situations regarding lack of good faith and fair dealing. Two recent cases include:
Our client was granted a mortgage and purchased a home. At the time of the transaction, the broker failed to provide her with disclosure papers. Our client later learned that her property had been transferred to her broker's husband. We are aggressively seeking a fair outcome of this case through litigation.

Our client founded and managed his own aircraft parts supply company. A supplier and customer database it developed formed a key strategic and competitive component of his business. A trusted manager of the company left the company, taking a copy of the database and opening a competing business. We took the case to trial and won a favorable result in a bench trial.

In another successful case, our client, a pastor, brought suit on behalf of the church for breach of fiduciary duty by a bishop who was trying to unfairly bring a new pastor into the church. The case was resolved by a fair settlement wherein the pastor remained at the church.
Cases involving a breach of fiduciary duty, fraud, and other business disputes involve people in a range of occupations, from notaries to vice presidents. If you suspect you are the victim of the breach of fiduciary duty in an agreement or transaction, including a home purchase or home foreclosure, contact us for answers and experienced legal representation.
Contact Us
Contact Orloff & Associates for answers and assistance regarding breach of fiduciary duty lawsuits. We have helped numerous people and organizations in the Downey area and receive many new clients via referrals from existing and past clients. We understand how valuable your time and money are, and that is why we are committed to resolving your legal matter as quickly, efficiently and cost-effectively as possible to save your business time and money.